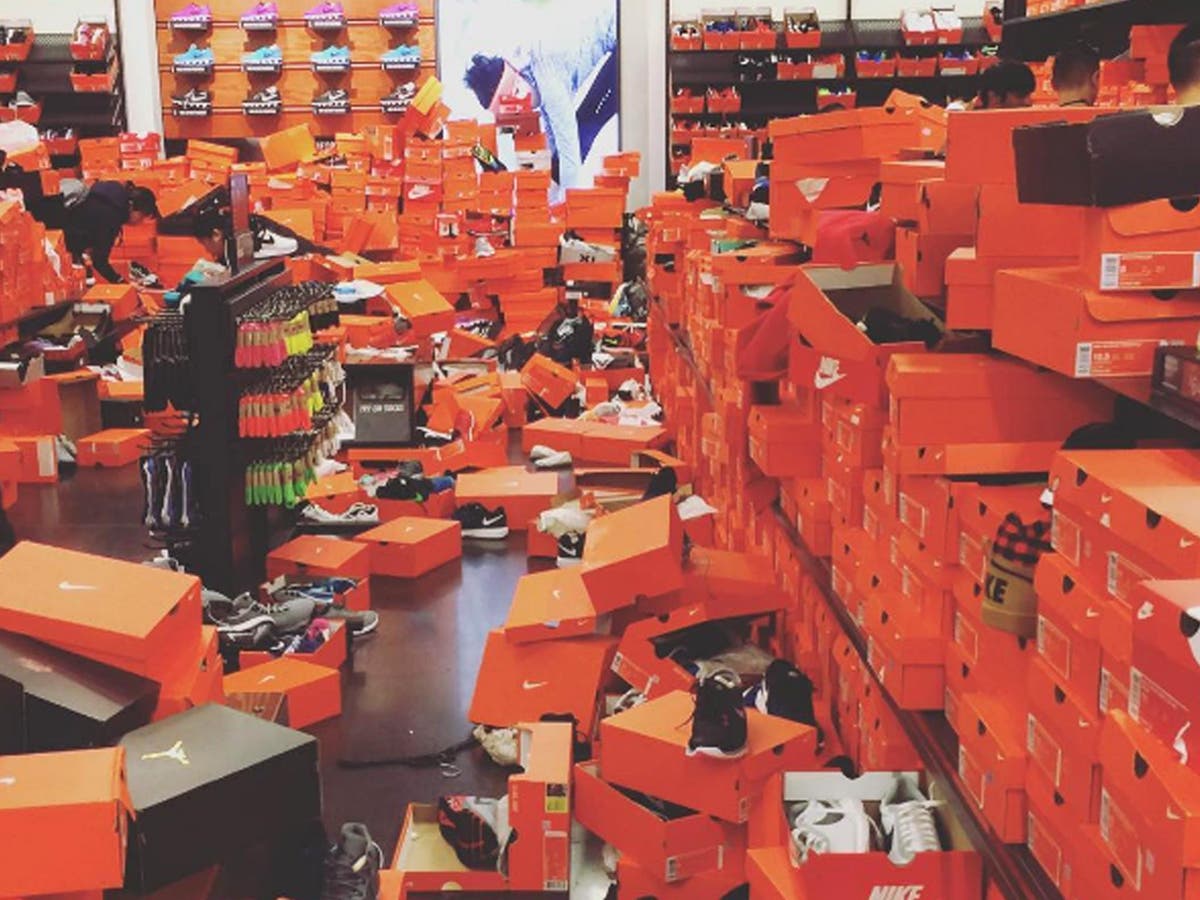 Nike store sinks after Black Friday chaos | The Independent
A Nike store in the United States has been wrecked after around 20,000 shoppers scoured the store in search of black friday good deals.
The store, located in the town of Tulalip, Washington, was pictured with shoes, boxes and packaging strewn across the store floor as customers picked up the carnage.
Store workers had previously posted a photo on Instagram of products neatly arranged in preparation for the Black Friday rush.
But customers then posted their own images showing the aftermath of the discount fight.
A customer, Larry Downer, said he went into the store to buy a pair of basketball shoes for his young son, only to be greeted by a scene of utter chaos.
He told Buzzfeed News, "I thought an earthquake had happened. It was unreal.
"We start walking from aisle to aisle, and you step on orange boxes everywhere.
"People were just throwing stuff aside. Seeing small children kicking the side with contempt – that bothered me a bit. As the parents swam through, the children had the same reaction.
A store worker estimated that 20,000 people visited the store between 8 p.m. last Thursday and 10 p.m. Friday.
The employee, who did not want to be named, said: "People [were] don't put anything back in the right place for the duration of our opening."
The scene was "Jurassic Park crazy," he added.
Black Friday traditionally takes place the day after the American Thanksgiving festival and sees many stores open early and offer promotional sales to mark the start of the Christmas shopping season.
The day was often marred by violence between shoppers competing for bargains and by injuries from jostling when stores opened.
Several shootings were reported outside US stores on Black Friday this year. In New Jersey, a 21-year-old was shot dead outside a Macy's store, while another man was shot and wounded in a Memphis mall.
In the UK, an off-duty police officer was stabbed by a Black Friday shopper in Leeds, and in South Africa, a riot broke out over cheap toilet paper rolls.